Dr. Seuss Inspired Party: FREE PRINTABLES
Geesh! It helps when you have a super talented, even craftier, older brother! My brother from, Figure Ground Graphics, designed these AWESOME Dr. Seuss Inspired Party printables and is offing them to DIY Inspired readers for FREE! Woot woot! They take just a few minutes to download and print and can be used for cupcake and food toppers, favor bags, or signs.  This is great because I am honored to share this Sweet Things Are Treat Things party for a Dr. Seuss edition of Craft Lightning!
Here is what they look like when you print them.
I cut and folded the balloons and cakes and put them on straws for food toppers.
Here are a few close ups.
I also used them to embellish some treat boxes that I made.  I will have a tutorial for these boxes coming up this week!
The sign can be used in different ways as well. You can simply fold it and display it.
You can use a photo holder to display it. OR…wait for it… they are the perfect size to fit in a Ziploc bag for party favors!
Now for the FREE Printables! Download them here:
Sweet Things Are Treat Things Party Printables
I hope you enjoyed this Dr. Seuss Inspired Party!  Thank you to Country Chic Cottage and 30 Minute Crafts for allowing me to participate in another fun Craft Lightening!  Be sure to stop by their blogs for more Dr. Seuss inspired crafty goodness!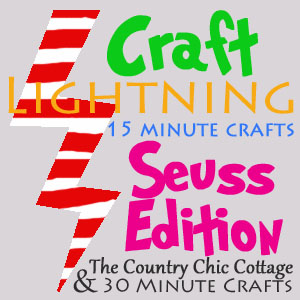 If you want to see some of my other 15 minute crafts you might like:
The following two tabs change content below.
Dinah is a craft, home décor, & DIY Blogger for www.diyinspired.com, a creative blog promoting repurposing through reinvention. She has a Master of Arts Degree in Speech Communication from California State University Fullerton. Formerly an educator at CSUF and business owner, she now is a full time writer, Curator for Style Me Pretty Living, Real Simple Lifestyler, and a member of Martha's Circle. She has blogged for multiple websites including Angie's List, Fix.com, Home Made Simple, and Sprout Online and has been published in a few magazines and ebooks. Her website, DIY Inspired has been recognized by Mashable, Parenting.com, and Buzzfeed.
Latest posts by Dinah Wulf (see all)
This content may contain affiliate links. Read the  disclosure policy for more info.