We painted our first room in our new house and I want to share it! Woo hoo! I thought I'd share some simple tips and tricks on how to paint a room along the way.
Although our kitchen is remodeled and beautiful (and actually the best room in the house), we thought it could use a little update.  Painting a room is the easiest and probably the most cost effective way to update or freshen up a room.  That's exactly what it did. Practically every room in this house is painted the same tannish color.  Painting it a light gray (or Gentle Rain according to the paint sample) made my traditional kitchen feel younger and more updated.
We started off by removing all the furniture, switch plates and outlet plates, and taping off the edges with blue painter's tape. By the way, I used the ScotchBlue brand and it worked beautifully.
Next, I used a block hand sander and lightly sanded any bumps or cracks.
I applied primer only to cover and smooth out and cracks. Primer helps to correct flaws and smooth surfaces.  We did not use primer for the entire wall because we were using the same type of paint, and both are light colors.  For more tips on how to and when to use primer click this link.
We placed a tarp on the floor in case of paint drips and had a few damp paper towels handy to quickly wipe off any mistakes.  My husband used a roller for the large sections of the wall.
I used a small paint brush and a paper bowl with paint for the edges.
We watched a movie in between coats (don't rent In Time with Justin Timberlake it was horrible).  After the second coat, pull off the painter's tape before the paint is completely dry for clean lines and edges.
Here are the AFTER pictures!
Do you have any painting tips and tricks? Leave a comment!
What is this blog hop all about, you ask? Myself, Cinthya and a Guest Host will be hosting this blog hop every Friday for the duration of three days. The Guest Host will be a featured blogger picked randomly every week (and can only be featured once every month) from the list of everyone who link up. They will have the benefit of joining Cinthya and Myself in hosting the Friday Shout-Out blog hop along with getting some free promotional space on our blogs (hence the Shout-Out). We will post their button on our page for a week for free. Who doesn't love free advertisement?!


I'm not a designer, decorator, editor, photographer, or even a writer. I'm a stay at home mom that loves to craft, decorate, repurpose and create.  I get my inspiration from several people from Nate Berkus to Martha Stewart, or even from my daughter and my extremely talented older brother.  I spend hours getting ideas from television shows, swap meets and flea markets, other blogs, thrift stores (even though some of them are smelly), and books and magazines.
Deciding to be a stay at home mom was not easy for me because I had spent the last ten years working my butt off and prior to that, I spent several years in college getting degrees and even teaching a little.  Working hard was in my blood. Everything changed when my amazing husband and I had a beautiful little girl, Mia. Becoming a parent, as many of you can attest (that is, if anyone ever reads this), flipped my world upside down, and there was no way I was going to miss the first laugh, the first word, the first step, or any milestone in between.  Staying at home not only meant quality time with my daughter, but also allowed more time to do what I love… get DIY crafty on the cheap.
With the support of my family and friends, I started this blog to simply test and challenge myself to start new projects, share my inspirations, and hopefully inspire a few others along the way.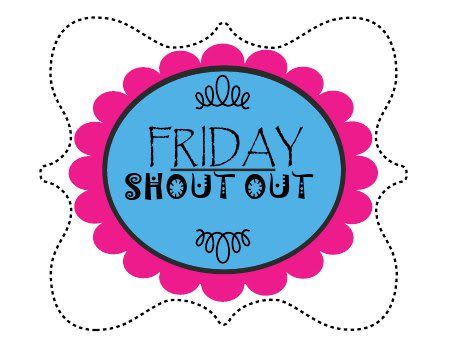 2.  Be sure to link up the HOME page of your blog as this is a Social Blog Hop.
3. Be social and visit some of your fellow bloggers who linked ahead of you.
4. Post the "Friday Shout-Out" Button on your blog to show your support and spread the love. Help us make this blog hop grow.